Year 2 - Badgers & Foxes
Wb 4th & 11th May - Odd Dog Out - Year 2
Click here for the Home Learning Map for Year 2
During this 2 week learning period we will be looking at the story Odd Dog Out by Rob Biddulph.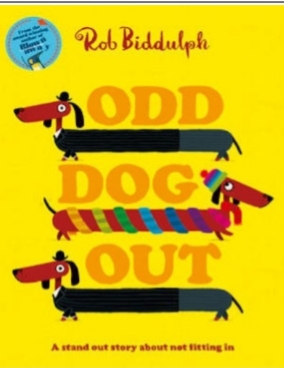 This story can be found here.
Below are resources to help you complete some of the activities from the Learning Map. Please do not feel that you must print these. They can be copied out or used as a starting point.
Topic
Click here to see Rob Biddulph's website for Odd Dog Out. You will find additional interactive activities and outtakes from the book.
Practise drawing and sketching a sausage dog, use this tutorial to help.
Why not try to make some dog shaped food?
You could also design, make and evaluate your own dog out of 'junk' recycling material.
Reading and Writing
Use the RSPCA website to find out more on how to care for a pet dog.
https://www.rspca.org.uk/adviceandwelfare/pets/dogs
Write a story about your pet or an animal? Think about an adventure they might have.
Create a poster to show how you add suffixes '-ed' and 'ing' to a root word. Explain what you notice about the spellings. Can you use this spelling pattern correctly in your writing activities?
Maths
BBC Bitesize - Friday Challenge!
Why not take part in the Bitesize challenge every Friday? Check back here every Friday for the latest challenge.
Click here to have a go at Week 1 - https://www.bbc.co.uk/bitesize/articles/zn9fy9q
01.05.20 - https://www.bbc.co.uk/bitesize/articles/zh23gwx
CanDo Maths Club
Here you will find a Parent Pack of Year 2 Maths based learning that has taken place during the academic year so far. Practise the skills and apply them to solve missing number and contextual problems to keep Maths Fit during the time of school closures.
The weekly plan will be:
Monday: Workouts A and D

Tuesday: Workout E
Wednesday: Workouts B and F
Thursday: Workouts C and G
Friday: Workout H
Unfortunately, the CanDoMaths Team are no longer producing videos to support the activity packs. Generic videos have been provided for Workout A, B, C , D, E and also for Workout F - the links are below.
Also the original videos for pack 2.1 and 2.2 are still available.
CanDoMaths Support Video 1 - Workouts A, B and C
CanDoMaths Support Video 2 - Workout D
CanDoMaths Support Video 3 - Workout E
CanDoMaths Support Video 4 - Workout F
CanDo Maths Answers
Physical Challenges
Cosmic Kids: Click below to take part in some mindfulness yoga!
Sporting games and activities available on Wiltshire and Swindon Sport website.
Science
Explorify!
Science topics: Odd one Out!
Spark a conversation by looking at the three images. Which one could be the odd one out? There is no right or wrong answer as long as you can explain your reasoning.
When you log back into your Explorify account, change the activity type to Odd One Out. Set the age range to 5-7 years. There are lots to choose from, have fun deciding which one is the odd one out!
Click the blue link below!
https://explorify.wellcome.ac.uk/
Seasons - BBC Bitesize
Can you help the dog prepare for all four seasons? Research and find out information and complete a weather report.
https://www.bbc.co.uk/bitesize/topics/zp397ty/articles/zbpc47h
Music
'Out of the Ark' are offering free music resources for use at home during the lock-down period.
(**Disclaimer - Some songs will have a religious theme**)
Click the house to take you to the web page.