Safeguarding
This term our safeguarding theme is Keeping safe outside of school.
The focus for our Safeguarding assemblies is keeping safe outside of school which covers among other things road safety, stranger danger and what to do if you get lost. Although it is highly unlikely that children will be out and about by themselves, it is still important to start educating children on how to stay safe. Educating children from an early age also helps develop their confidence and awareness.

Miss James – Head of School
Overview -what to explore with your child this term

• Awareness/saying no (stranger danger)
• Road safety
• Bike/scooter safety (helmets, lights, high-Vis etc.)
• What to do if you get lost
Useful Websites
Safeguarding Lesson 1
Watch 'Safer journeys anthem' film and practice song using lyrics.
Be Bright, Be Seen
Explain to your child that it is hard to see dark clothing at night or when the weather is bad e.g. torrential rain/fog/snow.
Ask your child have you seen people travelling with special clothing or equipment that make sure they are seen in the dark or when it's raining really hard?
What clothes do you think we should wear so we can be seen in the dark?
Discuss what you have found out.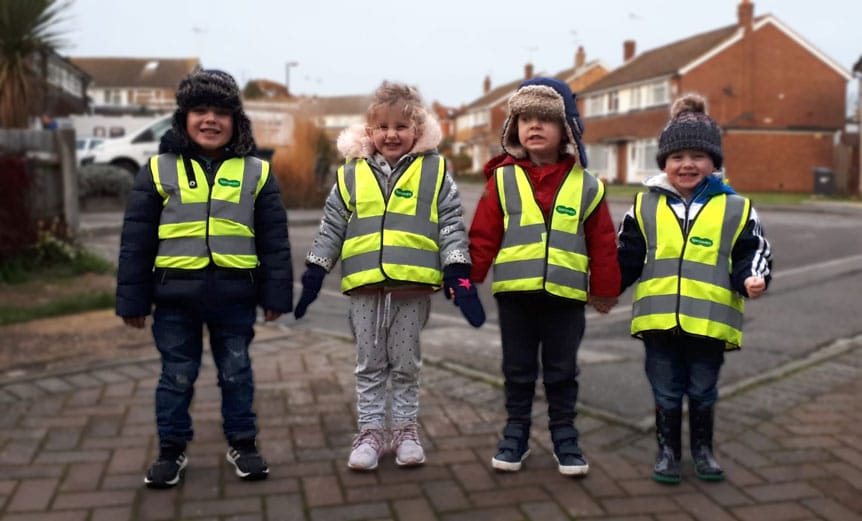 Safeguarding Lesson 2
How to cross the road safely
How do you cross the road safely?
Who might help you cross the road safely?
Watch
https://www.think.gov.uk/resource/crossing-roads/
What were the children doing in the clip?
What did you notice?
How did the children cross the road safely?
Remind children of the four words (stop, look, listen, think). You might want to chant this a few times with actions to help the children remember.
Show the children a few images from the PowerPoint Presentation 'Roads Away from Home' Use the prompts from the PowerPoint to discuss road safety.
Safeguarding Lesson 3
Hazards in the Road and Road Safety
What is a hazard? What does this word mean?
What is a hazard on the road?
Hazards in the Road
Show your child the images from the Hazard Spotting PowerPoint.
What hazards can you see?
What can you see in the pictures help keep you safe?
What good behaviour can you spot? Why is this important to keep us safe?
Walking Activity – Road Safety Checklist
When you go on a walk in your local area, have a look at the signs that keep us safe.
What road safety signs can you see?
Use the Road Safety Checklist to tick which signs you have seen.
Can you add any more signs?
Safeguarding Lesson 4
Ted's Tumble
Play Ted's Tumble
Discuss what happens in the story?
Why did it happen?
Roads Away From Home
Show your child the Roads Away From Home PowerPoint.
What crossings can you see?
How do the crossings keep you safe when you cross the road?
Poster Activity
Create a poster about how to cross a road safely and how crossings can help you cross a road.
You could watch the Crossing Roads video from lesson 2 to help you.